Copyright – The Dinky Amigos Adventures are copyright of Dinky Press Ltd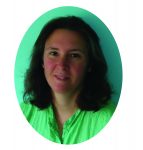 Lisa has a PhD in Biochemistry from the University of Edinburgh.  She subsequently worked as a Scientific Training Officer, first for the Medical Research Council and then for the European Bioinformatics Institute, teaching PhD students and professionals all over the world. Working on the Wellcome Trust Genome Campus in Cambridge, UK, Lisa was close to the action of the Human Genome Project and all the data it produced.  Billions and billions of nucleotides – the building blocks of DNA.
These building blocks have now been captured by Lisa in cartoon form as the Dinky Amigos. These Little Friends for Life help her tell their stories. The stories are real – helping to bring valuable information of the stuff of life to the younger reader.
DNA is the word on everyone's lips. It has made it into general conversation and even some sayings (not always accurately!). Understanding what DNA is, why it functions and how it can be manipulated will be crucial to many careers of the future. Lisa and the Dinky Amigos want to kick start the education that can give young people a better opportunity later on.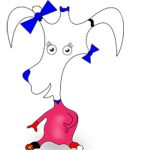 Alina is the most popular. She is clever, confident and helpful. She loves a good party, and is, like all the other Dinky Amigos, a really good dancer. She has a cousin called Ana who looks very similar. Ana is extremely helpful for all adventures – albeit in very interesting ways!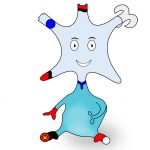 Tristan is Alina's best friend and they are always dancing together. They are both energetic and have similar personalities. He particularly likes his hat and wears it everywhere – even indoors!
Tristan ha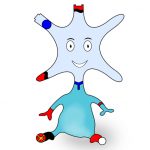 s a twin brother called Udan who is slightly more mischievous. He doesn't always join in on every adventure and he doesn't wear a hat either!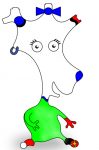 Gina is the most energetic of all! She is really fun to be around but she is not there as often as Alina. She likes to line up with friends who look the same and they like to be in control of some situations.
Crispin is Gina's best friend. They are always dancing together and are closer to each other than Alina and Tristan. Crispin doesn't have as much energy as Gina, though, and is sometimes a bit lazy. He likes to line up with Gina and her friends to help control some situations. Crispin is the least adventurous and prefers to follow rather than lead.